We recently spoke with Dr. Brad Raphael about his role as Syracuse University Basketball Team Orthopedist.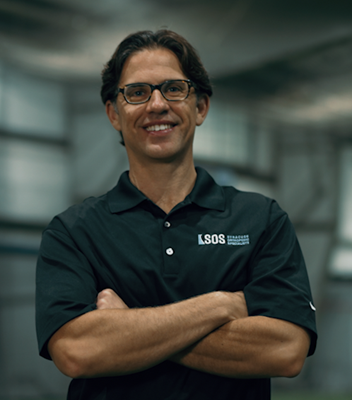 Q: What made you first want to get involved with collegiate athletic teams?
A:  Working with Syracuse University athletics has always been a dream of mine.  I had the privilege of growing up in a family where my father was team physician for Syracuse University for over 25 years.  At the time, he covered all their sports.  We would travel with the football team for bowl games during Christmas break and travel with the lacrosse team every Memorial Day weekend for the final 4.  Sprinkled in over the years were multiple final 4 trips with the men's basketball team, and of course the 2003 National Championship!  These were many childhood highlights and turned me into a passionate SU fan.
Once I had the privilege of working with professional and collegiate athletes during my fellowship and residency I was drawn to the challenges of working with high-level athletes.  It can be quite stressful trying to meet the demands and expectations associated with treating these athletes, but the rewards far exceed the stress.
Q: What challenges arise when you deal with collegiate level basketball players?
A:  Collegiate level basketball players are incredibly gifted athletes.  In addition to performing super human feats on the court they are required to maintain the highest level of endurance.  This puts a lot of stress on their body.  The challenge is to not only provide health care when they are injured but to look at ways of preventing injuries.  Another challenge that most fans do not realize, is the amount of travel required for the players.  This can disrupt physical therapy,  training sessions, and school work in addition to recovery time.
Q: What is a typical game day like?
A:  A typical game day usually involves showing up about an hour before tip off. I'll examine and/or clear any student athletes that may be injured or require extra medical care.  I work closely with the team athletic trainer and coaching staff to address any concerns or last minute questions. After tip off, I cross my fingers that I'm not needed, but I'm always close to the bench in case anyone gets hurt or needs medical attention. Most teams do not travel with a physician so I'm also responsible to treat members of the visiting team (and officials)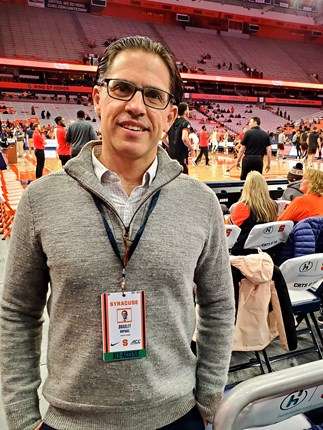 Q:  What's it like being on the court with the team during the games?
A:  I'm not going to lie, it's pretty exciting to watch the game behind the bench. You can't always see the on court action because the players and coaches limit our view. However, it's interesting to see the interactions between the players and coaches, especially to watch Coach Boeheim! We're allowed to clap and cheer for our players (but not allowed to complain about the officiating!).
Q:  You've been the team orthopedist for Syracuse University Basketball for many years, can you share a memorable experience? 
A:  I've been the team orthopedist for 11 years and my most memorable experience was the 2013 Final Four in Atlanta. We had a remarkable run leading up to that weekend with a great fan turnout in Washington DC the weekend before.