SOS patient experience surveys have been administered to our patients since May 2012. Patients provide feedback on their visits to SOS on a five point scale in areas ranging from access to the care given by our providers. With over 10,000 surveys returned in 2017, Syracuse Orthopedic Specialists received an overall experience rating of over 4.5/5! Learn more about the SOS Satisfaction Rating.
Do you Have a Great SOS Story?
Please tell us about your experience by visiting the linked online ratings sites here: SOS Experience Survey. Or by emailing: nicole.chidsey@sosbones.com.
Our Patient's Stories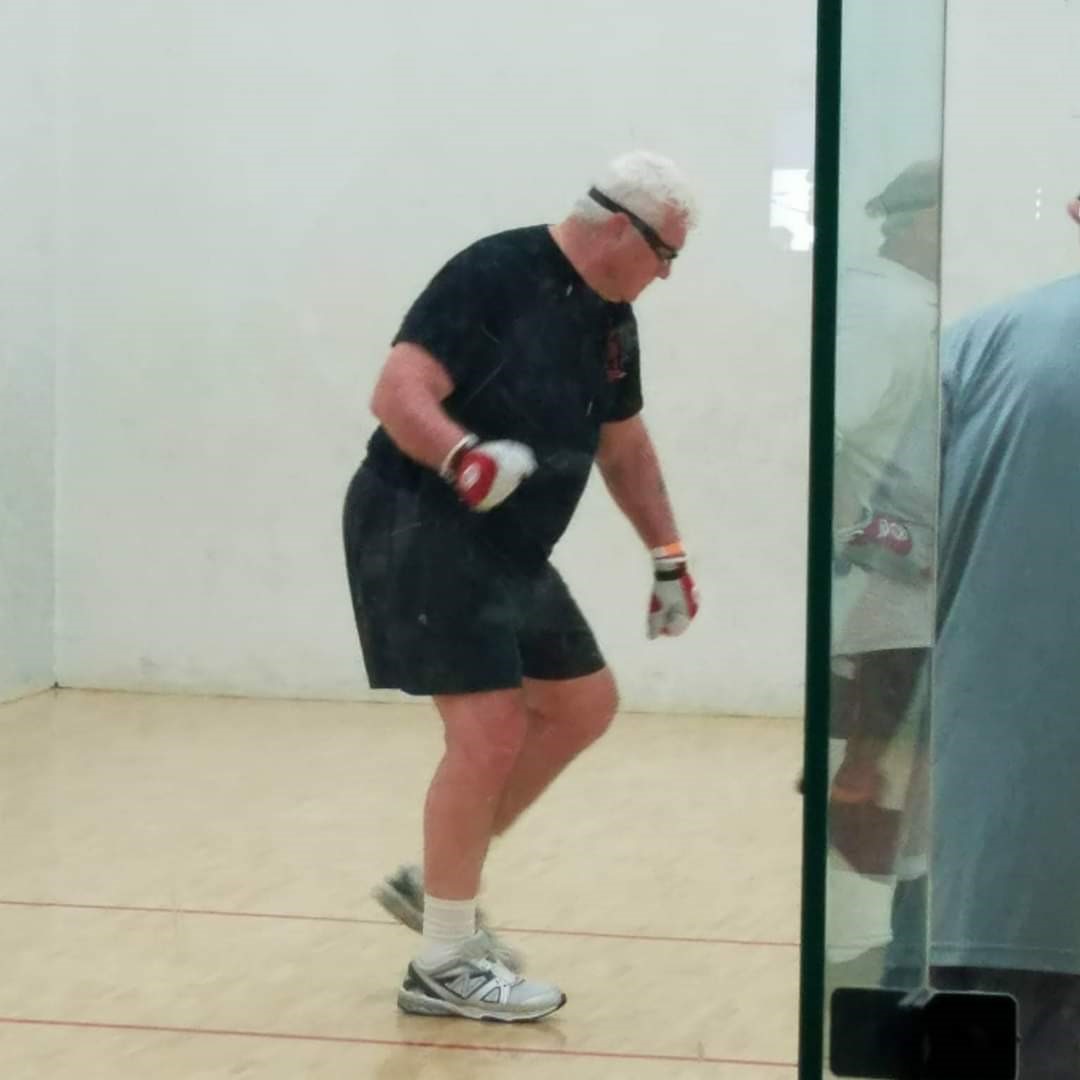 When I had my knee replacement, after I had a complete dominant shoulder replacement, I thought my competitive Handball competition was going to be a great memory. Having great doctors and especially Stacy Griffith, PT, who did an outstanding job getting me back into shape, and strong enough to allow me to continue competing! Since then have won seven tournaments and even was successful in winning the World Championship in Minnesota!
I am now living in Florida which has given me the opportunity to play three to four times a week! I am 77 in July, and thanks to SOS, can still play the sport I love!
⁠— Dennis U.
---
---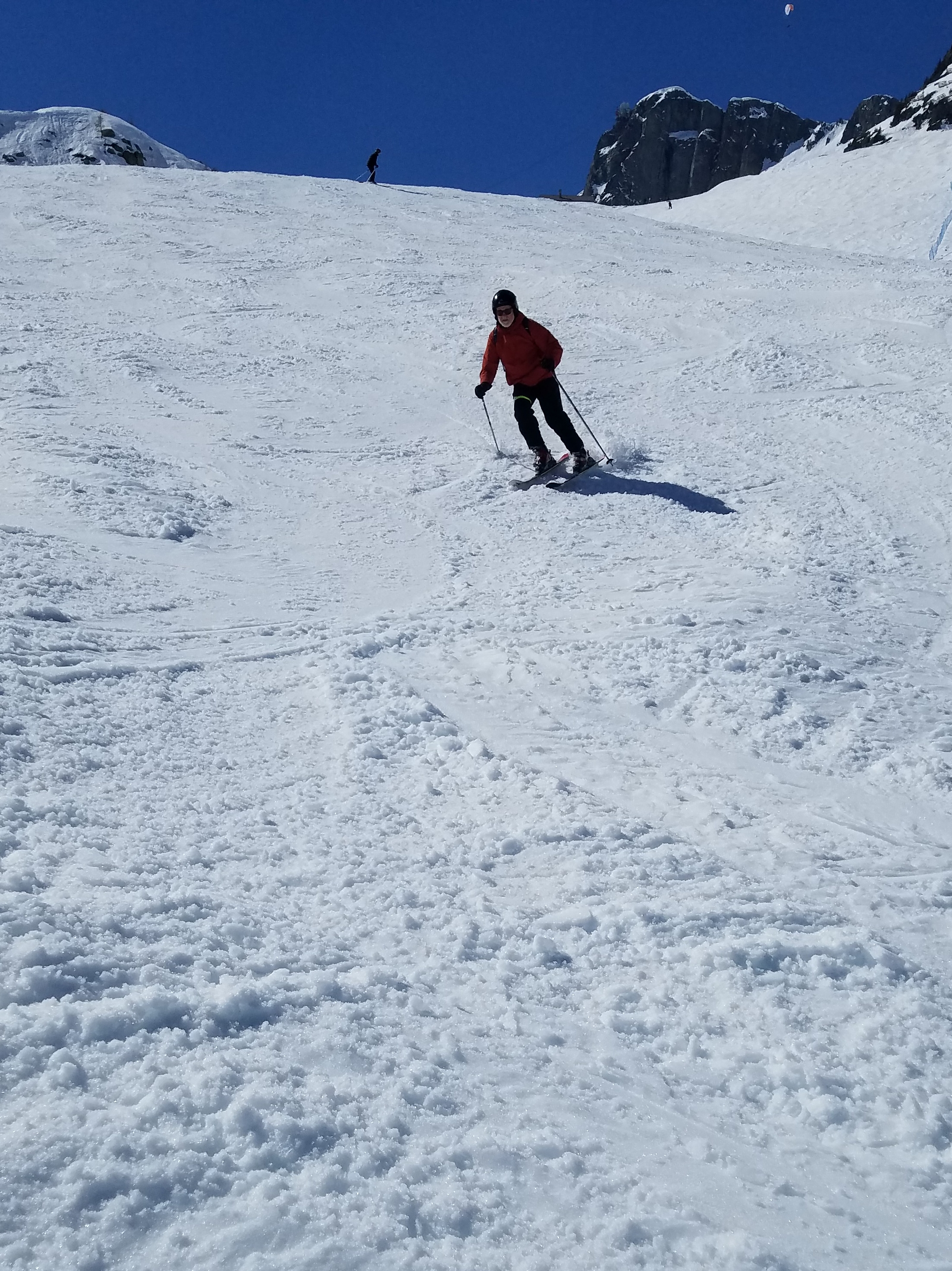 Six months out and I skied the Alps. Spring condition, heavy snow. It hadn't snowed in over 2 weeks and zero while I was there. I must say I was a little apprehensive my first few runs. Dr. Izant I followed your orders, "no bumps, no jumps, skied like I'm an old man." Hey that's how I skied before the knee replacement.
After 3 days my confidence came back and skied almost as though I was in a younger man's clothes. It rained the day we went to Courmayeur, Italy. I toured the city while others skied. They said it was the best day of skiing. I walked the small village and it's many hills almost 8 miles. Annecy, France, another day of spectacular views and much walking. Easily a 6 mile day. Next we did 2 days in Geneva with about 8 miles of walking. With a phenomenal tour ending the second day with a 218 mph (top speed) train ride to Paris. 4 days in Paris visiting museums, monuments, the Eiffel Tower, the Arc de Triomphe, the Museum of Orsay, the Louvre, the Rodin Museum and Cathedral of Notre Dame and many splendid gardens. Walked through the city and along the Seine River. 3 days and over 24 miles.
I must say it was quite the test for the new knee. It was a little sore and stiff at times, and even got massaged occasionally by anxious police officers after failing to go through metal detectors, at the the Louvre, the Arc de Triomphe, airport security, etc. But in all I'd give it an A plus.
⁠— John B.
---
---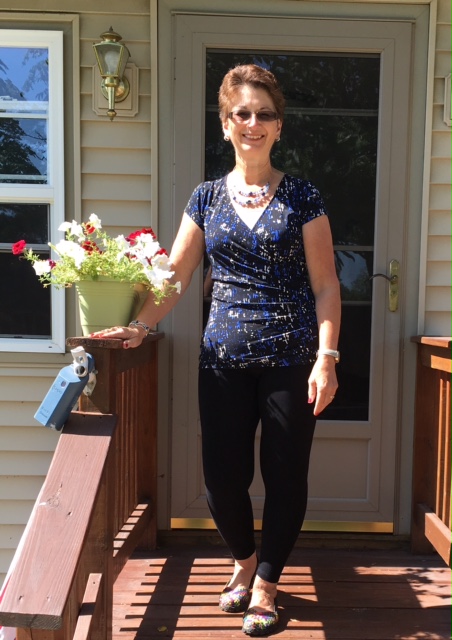 Dear SOS,
After 9 months of unending pain, I was finally diagnosed with right hip dysplasia. A fellow nurse referred me to Dr. Izant as her brother had both hips replaced by Dr Izant and was highly satisfied with all aspects of care.
I have to say, as an RN, I immediately began doing my "homework" reading all I could about Dr Izant. I am extremely active (until the past year) and when I watched the tutorial on the "Hip Today. Home Tomorrow. " program I was hopeful I would qualify .
Let me first thank the receptionists who so graciously worked hard to schedule me an appointment sooner than later as I was in quite a bit of pain. At my first appointment Dr Izant clearly explained why at 58 years old I had a 90 year old hip. He talked with my husband and I as long as needed to clearly explain the surgery, what to expect, and reassured me "I would feel better immediately." ( I thought "would I really??) And I qualified for the Hip Today Home Tomorrow " program.
Prior to my surgery the SOS STAFF clearly informed me by mail or phone call what I needed to be completing, whether it be labs, beginning supplements, setting up anything I may need at home. And I ENCOURAGE anyone who is having surgery to do everything possible to be in the very best mental and physical health you can be. I did leg exercises, some very minimal due to pain, but did them; continued even healthier eating , and learned all I could about the surgery. Crouse has a class specifically for the Hip Today Home Tomorrow program.
My surgery was a breeze. Into the OR at 7:30 am, walking the halls of the hospital with a walker at 11 am, amazing . Pain management at Crouse and through Dr Izant, was excellent. I was released the next day at 12 pm. Fast forward to 4 weeks postop: I did not need a cane after one week. No limp at all. Began physical therapy exercises immediately. I am active already, walked 4 miles 2 days ago. Swelling gone after 2 weeks. Pain? What's that? I have not needed even Tylenol since 2 weeks post op.
However, you will ONLY recover as best you can following ALL Exercise regimens by physical therapy and post op instructions . It's work, but great work to be able to get in and out of a car normally, walk briskly again, and up stairs easily. My elliptical is waiting and I can begin slowly again. Thank you to ALL SOS staff, Dr Izant, and Crouse Hospital . This could not have possibly been a more positive experience!
⁠— Joanne A.
---
---
Dear Mr. Humphrey,
I am about to reach my 65th birthday, and having had flat-feet, painful-feet, most of my life, I decided to finally get some help. I went for an appointment with Dr Christopher Fatti in July. He is a very caring doctor and I am thankful that I saw him. He had my feet x-rayed and also examined them. We talked for a while and he suggested braces for me. Since that time, I've had appointments with Maureen Kaljeskie and am able to walk; better than I have in a long while.
Maureen is an amazing, talented and caring lady. I am also very pleased with Patricia in your SOS Shop. Very helpful. Debra, I noticed, was also great in helping an older gentleman. So, I just wanted to "Thank you", for these terrific employees at SOS. Mr. Humphrey, you've got a great team!
⁠— Laura T.
---
---
Dear SOS,
My name is Debbie B. and I have been a patient of Dr. Bogosian for over 19 years. I started having problems with limping and pain in my left hip 19 years ago. I went to another orthopedic doctor and was very unhappy with his bed side manner and what he had determined what the problem was at that time. At that point I wanted to get a second opinion and went to Dr. Bogosian. Wow what a difference in orthopedic doctors. Dr. Bogosian was truly concerned about "Me". He diagnosed that I had to have a total hip replacement and also advised me to wait until I really needed it because I was young and the replacements were only good for 15-20 years, all depending on what I did or did not do.
As years went by, I had yearly appointments to keep an eye on what was happening. At no point during this time did Dr. Bogosian push me into surgery. I truly feel that he was concerned about "Me" and what I wanted to do. Yes, I was told that at any point that if it came to bone on bone and it was doing damage on me waiting, he would then tell me surgery was necessary. Once again he was concerned about "Me".
I can not say enough about Dr. Bogosian, his assistant and staff. They are all friendly and caring group of people that are concerned about the well being of people. I had a total hip replacement in June of this year (2015) and was very pleased. I had the surgery on a Tuesday and was back to work the following Monday doing some phone calls and paper work for a short period of time for our business that we own.
The surgery has given me life back. I now can do alot of the things I could not do for the 19 years. Thanks to Dr. Bogosian. If I had to recommend a orthopedic doctor to someone it would be him. Thank you Dr. Bogosian!! Thank you for your patience with ME. Thank you for giving me life back to do so many of the things I was not able to do. Thank you for taking the pain away. Thank you and your staff for being so caring and loyal to your customers. I can't thank you enough.....
⁠— Debbie B.
---
---
Dear SOS Doctors, Nurses, and Staff;
I wanted to reach out to you all with my most sincere gratitude for the care of my mother, Larisa O. As you know, she was only visited from Moldova when she broke her arm and it was an incredibly stressful time. However, the care and service that we received from SOS was exemplary. Before, during, and after the surgery the entire experience was fantastic and professional.
I especially wanted to send a big thank you to Dr. Lemley and Dr Izant. Both were so attentive and caring, making a very difficult situation so much easier. I was incredibly pleased with how well everyone handled our emergency situation. I couldn't have imagined going through this without any of the staff but especially the very gifted doctors. My mother could have been very overwhelmed being in a different country having to undergo surgery but instead , she was comfortable and has now recovered so well.
Again, I needed to simply share my appreciation for the entire office and know that if I ever find myself or any of my loved ones in need, I will be sending them to SOS.
⁠— Natasha O.
---
---
My name is Bob R. I was a patient of Dr. Short 2 years ago. I had two torn ligaments which Dr. Short repaired. I am now playing golf again. Thank you for getting me back in the game Dr. Short. I'm now doing what I love again and sharing it with my son! Just a great team you have! And as a bonus here is a GoPro video of my son, his best friend, and I playing the game I wasn't able to play before the surgery. Thank you again!
⁠— Bob R.
---
---
We went to SOS after hours Seneca Turnpike Office, no wait, immediate X-ray and surgery scheduled within 24 hours. The service and follow-up was excellent.
⁠— Sharon E. RN, CCM
---
---
I would like to commend you and your staff for the excellent services that have been provided to me throughout my meniscus surgery process with Dr. Cooke. We were apprehensive about dealing with such a big organization but have found that your systems are very efficient, and your staff is very friendly. For example, I did not have my prescription with me when I went for physical therapy last week. The therapist called and got it in less time than it took me to complete the one-page information sheet. He said that was a first for him!!
Once again, thank you for a very pleasant and professional experience.
— Donald B.
---
---
Just a note of grateful thanks for the arm and hand surgery performed on my brother, John S. What a wonderful positive change you made in his life. Your patience, kindness and sincere way of treating John is much appreciated by his whole family. We will always be thankful for your skill and expertise. You bring a passion and love of work work that is rarely seen today. We thank you for that.
⁠— Leo S.
---
---
Hi Dr. Wnorowski, wanted to say a big Thank You for all you have done. I have been skiing since 12/25/12 after having my acl reconstruction on 5/3/12, and have logged 10 ski days so far. Here are some pictures from our last trip to Killington a few weeks ago. We are planning another trip there again this week. We skied at Greek yesterday and will ski there again tomorrow. I had my doubts that I would ski again during the grueling rehab process, but it all paid off, I am ecstatic! Thank you and best wishes.
⁠— Joan S.
---
---
Dr John Parker has taken care of me and my injuries for quite sometime. I would like to say that while my pain can sometimes be unbearable, Dr Parker's assistance with my pain is amazing. His bedside manner sets the stage for the office visit. His caring and concern about me as a patient goes above & beyond. His demeanor is kind and helps in the total overall road to recovery. Knowing the high level of medical treatment I will receive relieves much of the normal anxiety that accompanies seeing a doctor. I want to thank Dr. Parker for his help and I will recommend his services to everyone who needs this type of medical assistance. I have already scheduled an appointment for my husband who is not a fan of visiting doctors, but is looking forward to this appointment because of the positive experiences I have had!
⁠— Rachel D.
---
---
Dear SOS
I would like to express my appreciation for the excellent care that I received from physical therapist, Scott Jablonka and his assistant, Kelsey Nash. From their professional demeanor, I was confident that I was in the care of two knowledgeable and highly skilled persons.
Their compassion, empathy and strong encouragement helped me through this difficult recovery. I am now walking again and on the road to returning to a normal life as a result of their efforts. I am very satisfied with the care I received and happy I chose East Syracuse SOS for my therapy. I would recommend this office to family, friends and others.
I realize it takes a team to operate an office, deliver care and lead physical therapy patients to successful rehabilitation. My overall positive experience with this location is the result of the professionalism, kindness and helpfulness from many of the staff members. Special thanks to Scott and Kelsey for what they have given me back and thanks to all of the staff at East Syracuse SOS.
⁠— Carol S.
---
---
Dear SOS
My name is Patricia C. and I am a patient of Dr. Nathan Everding. On December 3, 2014 I had a complete replacement of my right shoulder. Before surgery my arm was completely useless. I couldn't even write my name. Dr. Everding was very thorough in preparing me for surgery. He was me when I entered the hospital. He came to see me the evening after surgery and he also checked on me personally early the next morning. I spent about 24 hours in the hospital and had home health care for 2 weeks. I always saw the doctor personally at my after surgery checkups. His expert directions on what I could do with my arm were followed.
It was wonderful to have my arm back (since I am right handed). My family, friends and other doctors were amazed at my recovery. I told everyone what a professional successful experience it was. Dr. Nathan Everding is first and foremost a professional, skilled, talented, compassionate and dedicated doctor. A bonus is his wonderful, caring, and efficient office staff. I am so very thankful to be a patient of Dr. Everding.
⁠— Patricia C.
---
---
Many thanks to Dr. Frederick Lemley for his expertise in repairing torn tendons in my ankle and foot. I am 82 years old and went to 4 different doctors including a podiatrist in South Carolina. Dr. Lemley was recommended by two of the specialists . Highly recommended. My age was against me, but I now have a strong ankle and foot thanks to Dr. Lemley. Five stars plus says it all.
⁠— Julie S.
---
---
At the age of 89, Grandma Ida had a total hip replacement surgery with SOS and Dr. Kevin Kopko. Just 4 months later she's already up and dancing! ⁠— Dancing Nona