Ballet Barre workouts have morphed from classes for nimble dancers to become a workout of choice for fitness fiends everywhere, and studios are springing up in droves across the U.S.  In Central New York, an internet search yielded at least two dedicated barre studios and classes at several other fitness centers.
Most barre classes follow the same basic structure. They start with a mat-based warm-up full of planks and push-ups, have a series of arm exercises, and continue at the bar with a lower-body section to work thighs and glutes. They finish with a series of core-focused moves at the bar or a short session on the mat. The bulk of barre classes rely on isometric contractions, which occur when the muscle tenses without changing length. Think of these movements as the opposite of typical strength training moves, which occur when a muscle stretches then shortens (as in a biceps curl). Isometric exercise is a great way to maintain muscle strength.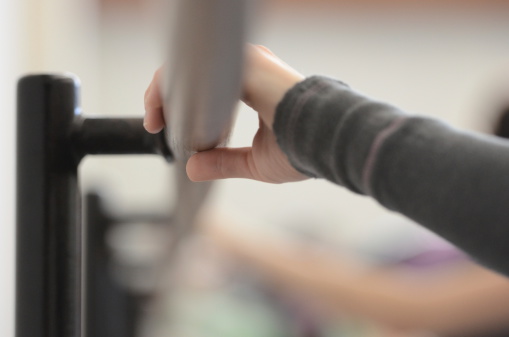 During barre workouts multiple muscle groups are targeted at once.  The strength, flexibility, joint stability and enhanced coordination gained through this workout all reduce the likelihood that you'll tweak, strain, sprain or break something. Even so, injuries can happen to anybody no matter their level of fitness. The most common injuries noted following a barre routine involve the knees, lower back and shoulders. Many of the positions used in class are derived from classical ballet positions, which often require a turned-out position at the hips, knees and ankles.
Syracuse Orthopedic Specialists have these recommendations for those wishing to step up to the barre:
Inform your instructor of any injuries you have prior to class. Most positions and exercises can be modified to accommodate your injury.
Proper alignment of the lumbar spine, hips, knees and ankles are crucial to avoid injury.
Many individuals taking barre class do not have a dance background and positions requiring turnout of the legs may seem foreign and unnatural. Ask your instructor to pay close attention to technique and form.
As the repetitions progress, fatigue may make it difficult to maintain proper form especially when performing upper extremity exercises.
Perform the exercises without weights rather than sacrifice your ideal shoulder alignment to avoid stressing your rotator cuff.
Ballet barre should be a fun, intense workout, which many people can enjoy if they follow proper guidance.  However, if injuries occur, SOS PLUS After Hours Care is available.  SOS PLUS is a walk-in orthopedic medical clinic that treats patients of all ages with acute orthopedic conditions requiring immediate attention.  SOS Plus has two locations to best serve patients, at 5719 Widewaters Parkway in Dewitt and 8324 Oswego Road in Liverpool.  Hours for both locations are weekdays 5 pm – 8:30 pm, and weekends 10 am – 2 pm.