The SOS Orthopedic & Sports Therapy Department (SOS O & ST) is here to provide Physical Therapy & Hand Therapy services to meet all your needs. Click on the body part or region that corresponds to your injury or where your pain is to see how SOS O & ST can help.
Not seeing the information you're looking for? Know what the problem is and looking to see a Therapist?
---
Why SOS Orthopedic and Sports Therapy?
Physical therapy and occupational therapy play important roles in helping patients prevail or recover from injury. At SOS Orthopedic & Sports Therapy (SOS O&ST), our team of highly skilled therapists are dedicated to providing the best care possible, tailored to your individual needs.
With four locations around Syracuse and our close relationship with the physicians at SOS, we are uniquely equipped to make your physical therapy experience the most effective and efficient possible. Though you are free to receive physical therapy anywhere, our comprehensive model of care is designed to enhance communication amongst your entire care team to expedite your recovery. 
When you come to Syracuse Orthopedic Specialists, you can expect to be treated by experienced therapists — all of whom specialize in orthopedics.
Many of our therapists possesses advanced training and certification in a range of specialties that closely align with the subspecialties provided by our orthopedic surgeons. We also provide an array of traditional and alternative treatment options (which can be found on our specialty services page).
The SOS O & ST team specializes in the evaluation and treatment of both non-operative orthopedic injuries and conditions as well as pre-operative and post-operative procedures.
We provide Physical & Hand Therapy services to treat & manage post-surgical conditions including, but not limited to:
Achilles Tendon Repair
ACL Reconstruction
Knee Arthroscopies
Total Joint Replacements
Rotator Cuff Repair & Shoulder Decompression
Carpal Tunnel Repairs & other procedures involving the Hand/Wrist
Cervical & Lumber Laminectomy/Discectomy
Spinal Fusion (& other Post-op Procedures involving the Spine)
The SOS O&ST team is dedicated to restoring healthy lifestyles by helping patients:
Manage, reduce or eliminate pain
Restore full Range of Motion & Strength
Improve Balance & Proprioception
Correct or Enhance Posture
Return safely to work, sports, activities of daily living (ADL's) and/or other important extra-curricular activities
Prevent re-injury of the same body part(s) and/or future injuries to other body parts
Our Therapists & Assistants treat injuries & conditions resulting from:
Sports, Work, and Recreational Injuries
Motor Vehicle Accidents
Arthritis
Vestibular/Balance Disorders
Chronic Pain
Neurological Impairments
---
SOS O & ST is committed to achieving Superior Outcomes and Patient Satisfaction.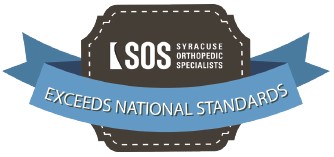 98.4% of SOS O&ST patients would recommend us to friends and family members after receiving care with us
On average, our patients achieve superior outcomes with fewer visits and shorter treatment durations.
Our Total Hip Replacements report superior functional outcomes with 3 less visits per case and 11 fewer days in a formal outpatient therapy program, which on average is less than other patients across the United States.
Our Total Knee Replacements report superior functional outcomes with 2 less visits per case and 11 fewer days in a formal outpatient therapy program, which on average is less than other patients across the United States.
Our outpatient therapy program, on average is less than other patients across the United States.
Orthopedic & Sports Therapy Specialty Services
SOS O & ST offers many technologically advanced and minimally invasive evaluation and treatment options including:
Shockwave Therapy
Laser Therapy
Sound Assisted Soft Tissue Mobilization (SASTM)
Custom Splinting and Bracing
The SOS Physical Therapy Team Also Includes Athletic Trainers
In addition to physical therapy, the SOS O & ST team includes athletic trainers. Our athletic trainers are trusted by local athletes at all levels -- from local high schools to college teams as well as professional athletes. 

Meet our athletic trainers near Syracuse, NY.
Restoring Strength & Active Lifestyles with the SOS Therapy Team
SOS' orthopedic and sports therapy team includes experienced physical therapists and occupational therapists (PTs/OTs) and Assistants (PTAs/COTAs). Our PTs/OTs are experienced in helping patients achieve their personal physical goals. Whether you're a senior citizen trying to maintain your mobility or an athlete in recovery from surgery, SOS provides total orthopedic care for patients throughout the Syracuse, NY metropolitan area.