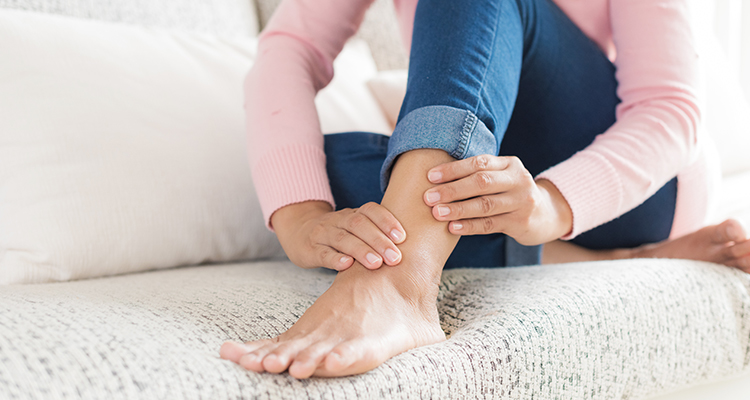 The SOS Foot & Ankle team is comprised of experienced foot doctors and foot surgeons serving Syracuse, NY and the surrounding areas. Our Foot & Ankle team provides comprehensive support for patients in Central New York with a unique group of professionals whose expertise allow for total management of a patient's foot health. Whether you're looking for an ankle specialist or foot doctor near Syracuse, NY, SOS' Foot & Ankle team have the experience and knowledge to provide total orthopedic care for any of your foot or ankle health concerns. The team includes two fellowship-trained, board certified orthopedic surgeons, and the only podiatrists and pedorthist affiliated with an orthopedic practice in the region.
By bringing together these specialties under one practice, SOS can offer patients services for routine foot care, like an ankle fracture or heel spurs to major surgical procedures such as an ankle replacement. Patients can have peace of mind knowing that if they have a chronic foot condition, they have an entire team who can serve them and communicate about the best individual treatment.
The SOS Foot Doctor & Ankle Doctor Team's expertise encompasses:
Ankle Replacements
Ankle fractures, strains, sprains and instability
Bunions
Hammer Toe
Rheumatoid arthritis
Achilles tendon tears or ruptures
Overuse injuries
And treatments, including:
Splinting, bracing or casting
Non-steroidal anti-inflammatory drugs or cortisone injections
Foot taping or padding
Physical therapy
Customized orthotics, lower extremity bracing and diabetic shoes
In addition, our podiatrists may be able to help with certain foot health concerns.
The Experts in Ankle Surgery
SOS' commitment to total orthopedic care provides patients with an extensive choice of alternatives to ankle surgery. However, in cases where ankle surgery is inevitable, you'll be reassured that you or your loved one is in the hands of the best ankle surgery team.
Looking for a Foot Surgeon?
As well as professional, experienced medical care from our team of ankle surgeons, Syracuse Orthopedic Specialists' patients can also expect comprehensive care from a qualified foot surgeon.
SOS Specializes in Diabetic Foot Care Services
When you have diabetes, it's easier to prevent problems than to treat them later on. Scheduling regular checkups with your foot care doctor will help ensure problems are caught earlier and a treatment plan can be made.
Learn more about our Diabetic Foot Care services.