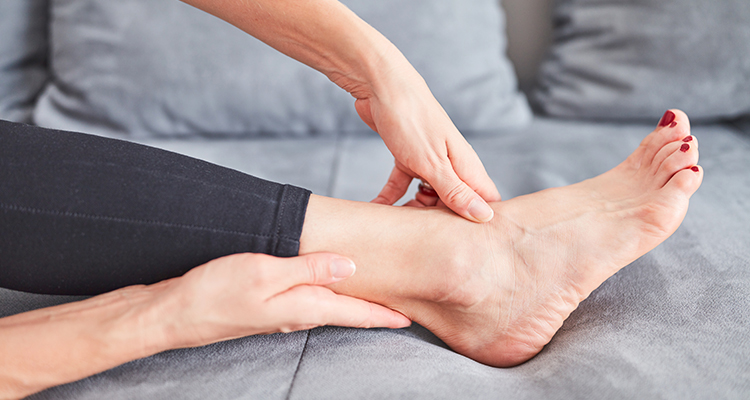 What is a Podiatrist?
A podiatrist is a medical doctor who specializes in diagnosing and treating health issues affecting the foot, ankle and other relevant parts of the leg.
Need to See a Podiatrist?
---
How Our Podiatrists Can Help
If you're looking for the best podiatrists near you, look no further. For decades, the qualified physicians and surgeons at SOS have been depended on to provide total orthopedic care to the communities we serve. This includes Board Certified podiatrists, as well as physicians who qualify as a Doctor of Podiatric Medicine (DPM). These qualified experts have the experience and specialized knowledge necessary to provide the quality care you depend on to properly manage and treat almost any foot condition. Our team of specialists also includes Foot and Ankle Surgeons.
Whether you're experiencing something as common as foot pain, or you're experiencing symptoms associated with rare foot conditions, with SOS you have the peace of mind that your health is being taken care of by the best podiatrists around.
Our podiatrists can help care and treat almost any foot health concerns, including, but not limited to:
Diabetic Foot Care
Osteoarthritis in the Foot
Hammer Toe
Pain in Feet, Heel, or Toes
Plantar Fasciitis
Tendinitis
Foot and Toe Deformities
Bunions
Ingrown Toenails
Flat Foot
and more
Are you experiencing any of the following symptoms or conditions? Schedule an appointment with our podiatrists now.
---
Our Podiatrists Can Also Help With Heel Pain & Foot Pain
Heel pain or foot pain can be a symptom of a large variety of health problems. Because heel pain or foot pain could be a symptom of a number of different possible conditions, it's best to get a professional medical opinion on the best care plan. The SOS podiatrists are experienced in helping care, treat and manage patient's heel pain or foot pain. Our foot surgeons may also be able to help with foot pain.
Get Help From SOS Foot Surgeons
Customized Orthotics, Lower Extremity Bracing & Diabetic Shoes
In some cases, your physician may prescribe custom-molded orthotics or foot/ankle braces to assist your condition. Our Certified Pedorthist specializes in design and customizing orthotics and AFOs in order to meet those needs.
See a Podiatrist at Syracuse Orthopedic Specialists
Foot pain and other foot related health problems can make life difficult, and sometimes can be a sign of a more serious concern. For total orthopedic care from your SOS podiatrist...