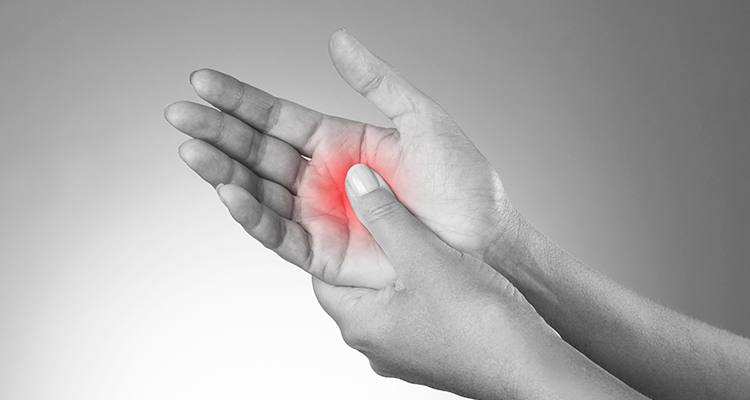 Hand pain may be caused by a variety of different medical conditions. Because of this, hand pain could result in more serious health issues developing.
See a Doctor or Therapist About Hand Pain
An SOS hand specialist can provide a diagnosis and personalized care plan for you or your loved one's hand pain.
Causes of Hand Pain
Hand pain causes include a wide variety of medical conditions. In addition, an injury from a sudden impact can also be a cause of hand pain, such as:
Sports injuries
Car accidents
Slip and fall
Hand pain caused by these sudden injuries can cause a sprain or fracture.
Medical conditions that can be a common cause of hand pain are detailed below. To learn more about a certain medical condition (including symptoms and treatment options) simply click on the name of the medical condition.
Whether you have an idea of what's causing your hand pain or you're not sure of the cause, it's important to see a hand doctor to ensure that your hand heals properly. This can help prevent further, long term health problems. The team at Syracuse Orthopedic Specialists includes the best hand doctors near Syracuse, NY and the surrounding regions.
"Dr. Alan Lemley and his staff is the best. They listen to your concerns, they do the necessary tests to confirm and address your issue at hand as they detail the way they can resolve the issue in a professional and timely manner. I've had both my hands…done at his office and I would highly recommend if you have carpel tunnel or cubital tunnel."
- A satisfied SOS patient
Click on a Hand Pain Cause Below to Learn More About a Specific Medical Condition