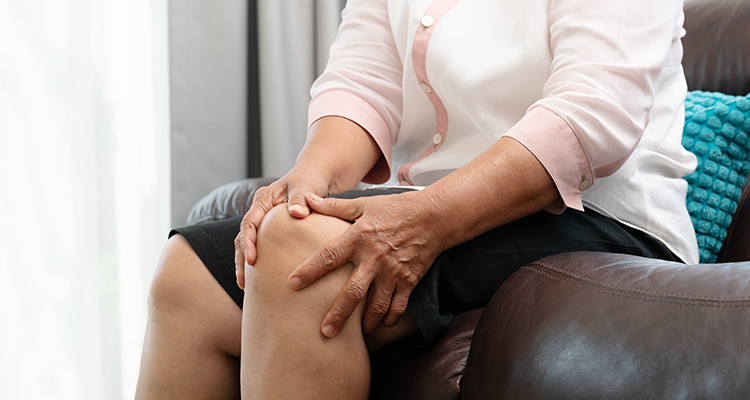 The SOS Joint Replacement Program is one of the nation's best, with more than 3,000 surgeries performed annually. The surgeons on the SOS joint replacement team are fellowship-trained, highly experienced and skilled in total joint replacement.
Trauma, such as fractures, or diseases like arthritis are the most common reasons for a joint replacement. During the surgery, diseased or injured joint surfaces are removed and replaced with an artificial joint, or prosthesis, generally made from metal and plastic or ceramic, materials designed to allow the artificial joint to move much like a normal joint.
Today, people have longer life expectancies and greater activity levels, and joint replacement is being performed in greater numbers on younger patients thanks to new advances in artificial joint technology.
SOS Joint Replacement - Doctors in Motion
Learn more about Hip and Knee Replacement Surgery outcomes in our Joint Registry - a Local, Comprehensive review of Hip and Knee Replacement Outcomes.
Same-day or outpatient joint replacement surgery is on the rise in the United States. Predictions are by 2027 over 50% of joint replacements will be done as an outpatient. Learn more.
Common Joint Replacement Procedures Include:
Hip Replacement
Hip Replacement Surgery
Minimally Invasive Hip Replacement
Hip Resurfacing
Revision Hip Replacement Surgery
Anterior Approach Total Hip Replacement
If you're looking for a hip replacement doctor near Syracuse, NY, trust the experienced hip surgery professionals at SOS. An SOS hip replacement doctor will listen to your situation, evaluate your individual medical needs and determine if hip surgery is right for you.
Knee Replacement
Knee Replacement
Minimally Invasive Knee Replacement
Computer Assisted Knee Replacement
Revision Knee Replacement Surgery
Partial Knee Replacement
Unicompartmental Knee Replacement
Robotic Assisted Partial Knee Replacement
If you're considering knee surgery, a knee replacement surgery may be the best care plan for your personal health. 
Shoulder Replacement
Are you suffering from aching shoulders and limited motion? Speak with a SOS shoulder specialist to see if shoulder surgery is right for you.
Other Joint Replacement Options
Treatment of Hip and Knee Disorders in Young Adults
Adult Joint Reconstruction
Schedule An Appointment With Syracuse, NY's Joint Replacement Experts
Learn more about your joint replacement options and see if joint replacement surgery is right for you, schedule an appointment today.
Joint Replacement Class
The SOS Joint Replacement Team provides joint replacement class to help prepare patients for joint replacement process. This class provides valuable information, helpful tips and tricks, and is an opportunity to ask any questions you might still have. The class is a requirement before surgery. View Classes.
Self Pay Joint Replacement
A cash-pay option is available to patients seeking hip or knee replacement with SOS. SOS' self-pay option allows patients who do not have insurance or prefer to pay without insurance to have their joint replacement with Central New York's regional leader in joint replacement procedures. Learn about Self Pay Joint Replacement.
Joint Replacement Resources
American Association of Hip and Knee Surgeons
Playdough Hip Replacement:
Playdough Knee Replacement: