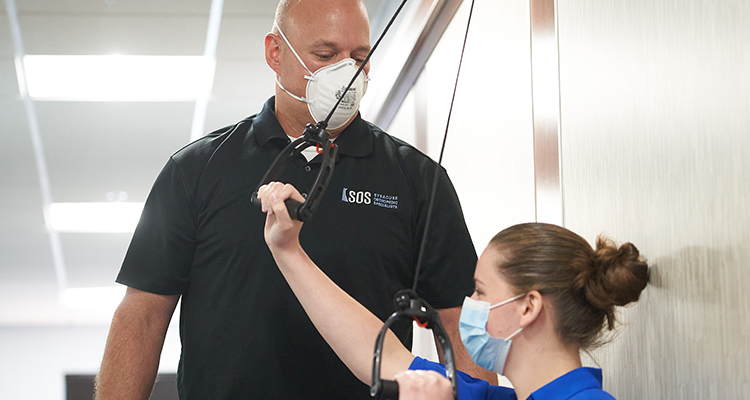 Almost all patients can benefit from post-operative therapy. Some may only need a few visits while others may require several weeks. Some will benefit from a physical therapy post-operative consult, prior to discharge from our Specialist's One Day Surgery (SODS), where our therapists are onsite daily. At SODS, our therapists work with patients in order to educate & instruct them on:
Walking with a walker, rolling scooter, crutches, cane, or other Assistive Device (AD)
Ascending/Descending Stairs without/without an AD
Getting in/out of a car
Properly putting on/taking off a sling, brace, boot, etc.
Postural education and self-management techniques to help control or minimize symptoms to expedite healing & recovery
Safe transfers in/out of bed, to/from a chair, to/from a toilet/tub/shower
Protocol for post-operative treatment in the outpatient setting (as needed)
While many patients may not require a physical therapy consult at SODS, most will require/benefit from outpatient physical therapy services. This may entail a few visits for patient education (as described above) and the development of an individualized Home Exercise Program (HEP) or several weeks of intensive, hands-on physical therapy to maximize functional recovery following a more extensive surgical procedure.
To best serve our community, each SOS Orthopedic & Sports Therapy location includes a team of rehabilitation specialists dedicated to each specialty area provided by our orthopedic surgeons. We work together closely to provide the most comprehensive care, by specialty, for all post-operative orthopedic conditions involving the:
Hand, Wrist & Elbow
Shoulder & Upper Extremity
Spine (Neck & Back)
Hip & Knee
Foot & Ankle