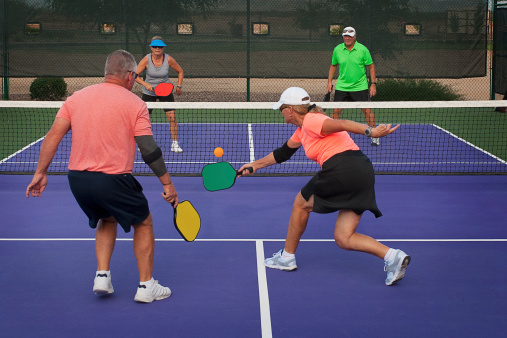 Pickleball, although around for 50 years, has just recently seen a rapid growth in popularity.  According to the Sports & Fitness Industry Association's 2015 Participant Report, 2.46 million Americans play pickleball. A paddle sport with an odd name, it combines many elements of tennis, badminton and ping-pong and can be played by people of all ages and skill levels.  It is played either indoors or outdoors with a paddle that is smaller than a tennis racquet but larger than a ping-pong paddle, and plastic ball (similar to a whiffle ball) on a badminton-sized court with slightly modified tennis net.
Locally, people can play pickleball at area Y's and community centers.  There are many benefits of playing the game – it is great for socialization, can be easily learned, and can be easier on the joints than tennis.  But, with any paddle sport, there are risks for injuries.
According to Racquet Network, the most common major pickleball injury is a broken wrist. This can occur when a player moves quickly toward the back of the court and loses their balance. While falling, they put out their hand to break their fall and end up breaking their wrist instead.
Additionally, while easier on the body than tennis, pickleball players can also suffer from "tennis elbow," a condition caused by overuse of the arm, forearm and hand muscles that results in elbow pain.
SOS offers the following tips for preventing pickleball injuries:
Recognize physical limitations. While pickleball is a better alternative to tennis for people with aging joints, be sure you are healthy enough to play even this moderate court game.
Be sure to have the proper shoes, ones that support your feet and are designed for court sports. Wearing quality, good-fitting footwear can help prevent trips and falls, which can lead to wrist and other injuries.
Warm-up.  Always start any physical activity with proper stretching and warm-up of the muscles you'll be using.
Never play on a wet court.  They are extremely dangerous.
If pickleball, or other activities lead to injury or pain in the hand, wrist or elbow, the physicians and staff at the SOS Hand & Wrist Center are available to help, and encourage patients to learn about their options.