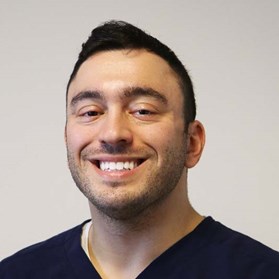 Jacob Kurtz is a physician assistant that joined SOS and the Sports Medicine team in 2021. Previously, he worked in primary care and at NYU Langone Orthopedics for 4 years treating a wide variety of orthopedic injuries with focuses in adult reconstruction and sports medicine.
He attended SUNY at Buffalo where he earned a B.S. in Biomedical Sciences in 2014. Then later attended Le Moyne College where he earned his M.S. in Physician Assistant studies. He is licensed as a Physician Assistant by the University of the State of New York, Education Department, Office of the Professions and is board certified by the NCCPA.
Jacob sees patients at several SOS offices and supports our Sports Medicine team.