SOS employees, it's that time of year when we come together to support the United Way of Central New York. Our campaign helps to improve lives by mobilizing the caring power of our community.
A pledge can be made by a one-time donation or through a bi-weekly payroll deduction. There are several options for your pledge. You can support all the UW agencies, designate a specific UW agency, or designate a specific non-profit organization. The earlier you turn in your pledge, the better your chances are to win prizes from the weekly SOS drawings & the United Way Step Up Challenge.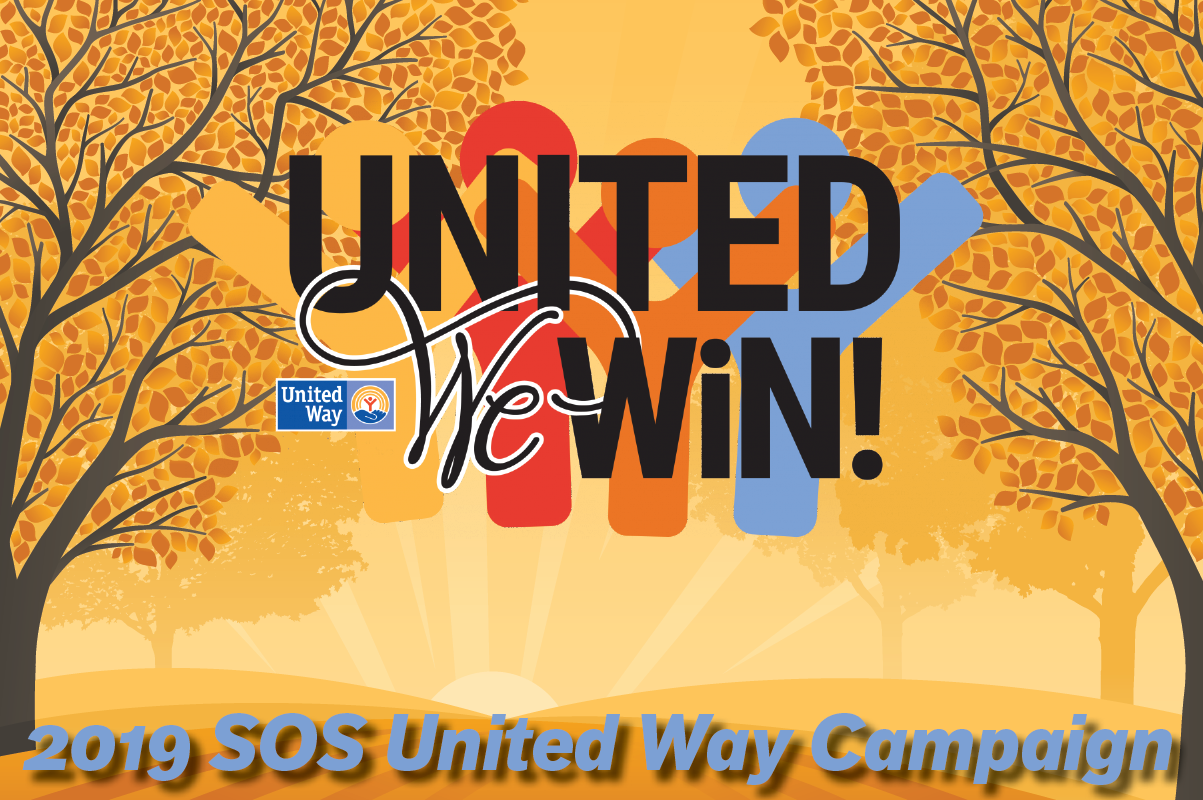 Weekly Drawings
10/7, 10/14, 10/21, 10/28 – Each of these Mondays there will be a winner for a $25 American Express gift card AND a winner for 4 hours of PTO. Once you pledge, you are eligible for all SOS weekly drawings. (However, you can only win one prize)
To be eligible for American Express gift card :: employee must make a donation of any amount.
To be eligible for PTO :: employee must make a payroll deduction pledge or a cash donation for a MINIMUM of $1/week ($2/pay period = $52/yr). *As with all PTO, time must be scheduled and approved by your supervisor. You must be a benefits eligible employee to be entered in this drawing.
Jeans Days will be held every Friday in October to benefit the United Way!
10/4, 10/11, 10/18, 10/25 - $2 donation required to wear jeans.
10/18- Favorite Jersey or SU Gear - $4 donation
10/31 - $5 donation by employee required to wear jeans, or wear your Halloween costume and SOS will donate $5!
Staff Raffles and Fundraisers
There are so many amazing site fundraisers going on! Check with you site coordinator on what's happening at your site.
SOS Site Coordinators
Site 5: Kayla Varre, Kristi Ruggeri
Site 11: Alison Kulas, Lyndsay Smith
Site 14/15: Cathy Noel, Kristina Fillipetti, Lesley White, Natalie Leitner, Michelle Amidon
Site 18: Diane Fay, Melissa Silkworth, Bill Garrett, Diana Jones
Site 19: Amy Marshall
Site 22 - Joelyn Fitzgerald, Alex Toole, Heidi Wiles
Site 22 PT – Katherine Farok
Site 23 PT: Briana Lane
Site 25 PT: Lynn Fedrizzi
Site 27: Samantha Farok
Site 28: Lesley White
Site 28PT: Irina Tson
Site 29: Emily Gorman
SODS: Stacey Ball and Renee Cuda
Campaign Coordinators: Cheryl Holdrege + Nicole Chidsey