June 2019
Dr. Stephanie Hook featured in the American Association for Women Podiatrists Newsletter
Member Spotlight: Dr. Stephanie R. Hook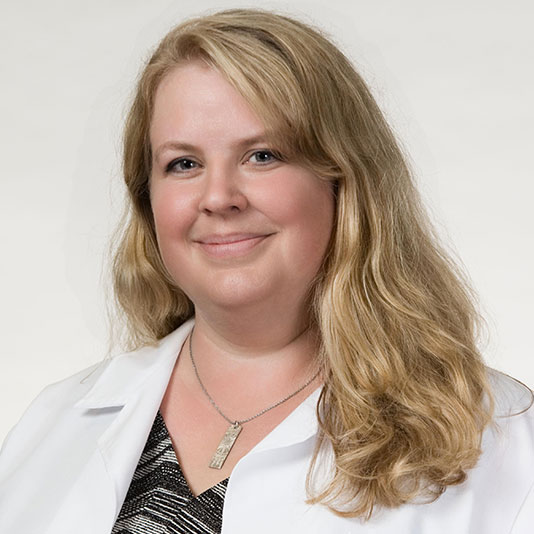 Years in practice:
I am just starting my 12th year in practice. The first years were spent with a podiatry group while the last 2.5 years have been with an orthopedic group.
Location of Practice:
I practice in Syracuse, New York and the immediate suburbs.
Type of practice (solo, group, etc):
I am one of two podiatrists with a large orthopedic group, Syracuse Orthopedic Specialists.
Best part of being a DPM:
The best part about being a DPM is being able to make people feel better. I find that a lot of people, until they develop a foot concern, take their feet a little bit for granted. They don't realize necessarily how much their feet can really affect their overall quality of life. It is the absolute best feeling I can imagine when a treatment I provide in the office has them leaving the first visit smiling and saying how great they feel.
Most challenging part of being a DPM:
On a general level, I would say the most challenging part of being a DPM is the public perception of the career. There are certainly patients who assume we just give "fancy pedicures". While foot care is obviously a large part of what we do, we all know there is so much more to our profession. On a more specific plane, state scopes and limitations still remain a large concern for some of us. It is difficult to see a lower leg concern or wound and know how to treat it but be unable to do so.
How do you structure your practice/professional life to try to achieve work/life balance?
I am extremely grateful to be a part of SOS. This amazing company has allowed me to create that balance. I work a busy day, but have an incredible support from my nurse, my triage nurses, my secretary, patient representatives, all the way up to administration. They allow me to go home at the end of the day and truly "disconnect" (except in emergencies, of course) and spend time with my wonderful husband. He is truly my biggest champion and supporter. With his love and encouragement, I feel like I'm truly chasing my dreams (working for SOS and being a Trustee of the NYSPMA) and then coming home to my best friend. I cannot imagine a better life, career, employer, or husband.
What do you think is the biggest challenge facing Female DPMs in particular at this time?
Going back to what I stated earlier about the "pedicures", as I've moved through this profession over the years, I definitely feel like, as a female, I hear this comment more often than my male peers. At times, it feels like patients can be so used to male providers that females almost have to work much harder to prove themselves. I do, however, feel that climate is changing. As the practice of medicine continues to grow and change, and with more and more female practitioners in all fields, I would like to believe that the challenges will continue to lessen.
What unique characteristics or traits do you think female DPMs bring to our profession?
I am going to answer this based upon what patients have told me over the years. Several of my patients, especially females and the elderly, tell me they prefer a female doctor as they are simply more comfortable. A lot of patients are self-conscious and seem to feel more at ease with a female practitioner. I also feel as though my female patients believe I will understand the demands of their daily lives a little more easily and may even share more freely their story or history. And, of course, shoes! My patients always want to know chat about "cute shoes that work" with a woman!
What is your favorite aspect of AAWP?
Without a doubt, the scholarship opportunities. Our profession is awesome, our members are so incredible, and the AAWP giving that support to help us continue to learn and grow is by far my favorite aspect of this organization.
What would you like to see AAWP do/address in the future?
I would love to see the membership grow and flourish, even to the point of possibly being able to become involved at the state level. I would love to see our members as speakers at, for instance, state or local clinical conferences.
What else would you like us to know about you?
I am honored and humbled to be featured in this newsletter. I believe in our profession with all my heart. I see a bright future for this field we all love so much and I am grateful to have the opportunity to help advance it in any way I can.