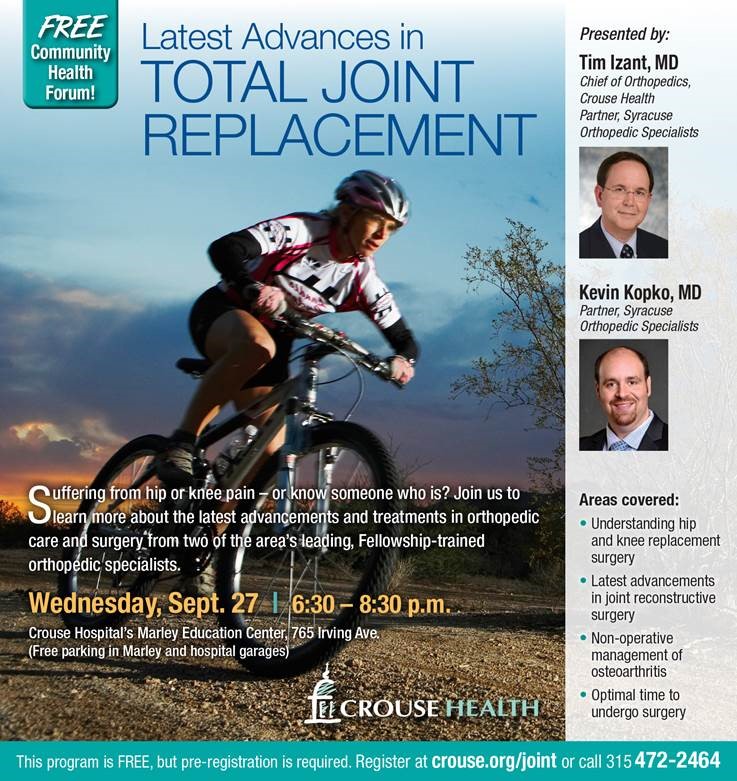 Suffering from hip or knee pain – or know someone who is? Join Crouse Health and SOS to learn more about the latest advancements and treatments in orthopedic care and surgery from two of the area's leading Fellowship-trained orthopedic specialists.
Tim Izant, MD, chief of orthopedics at Crouse Hospital and partner at Syracuse Orthopedic Specialists, and Kevin Kopko, MD, partner at Syracuse Orthopedic Specialists, will present the latest surgical and non-surgical options in orthopedic care.
The event is free and open to the public, but pre-registration is required. It will be held Wednesday, Sept. 27, 6:30 – 8:30 p.m., at the Marley Education Center, 765 Irving Ave. Free parking is available in the Marley and Crouse Hospital garages.
The physicians will discuss hip and knee replacement surgery, the latest advancements in joint reconstructive surgery, primary and revision joint replacement of the hip and knee, non-operative management of osteoarthritis and when surgery is required.