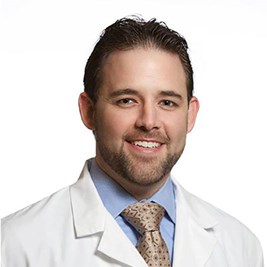 Nathan G. Everding, MD
Upper Extremity Surgeon with SOS specializing in hand, wrist, elbow, and shoulder surgery
WHAT IS AN UPPER EXTREMITY SURGEON AND WHAT DO THEY DO?
As an upper extremity surgeon I am able to treat a wide variety of patients (laborers, athletes, musicians, children, adults, and the elderly) with a wide variety of problems/injuries (broken bones, torn tendons, arthritis, inflammation, nerve dysfunction, and congenital problems).  This broad scope of practice is exciting and keeps me "on my toes."  More importantly, by spending extra time in specialized training I am able to care for patients with multiple problems, in a multitude of anatomical locations, making it easier for patients to find the care they need.
WHAT IS YOUR FAVORITE PART OF THE WORK?
Orthopedics is a unique field of medicine.  Many medical fields focus on treating acute or chronic illnesses, guiding sick patients back to health.  In orthopedics, we focus on improving quality of life.  Often times our patients are not "sick" in the true sense of the word, rather they are experiencing pain and limitations in function that affect their quality of life.  Whether the problem is an injury, such as a broken bone, or a degenerative problem, such as arthritis, we treat patients and improve their quality of life often improving function and pain.  Helping a patient get back to their activities; whether that be returning to work, sport, or just regaining their independence; is extremely gratifying.
WHAT IS SOMETHING ABOUT YOUR PRACTICE YOU WANT PEOPLE TO KNOW?
Although I enjoy treating patients of all ages with varying aliments, one of my passions is treating patients with arthritis of the upper extremity.  Many people have experienced, or know someone who has hip or knee arthritis.  These patients are commonly treated with joint replacement surgery.  Although less common, arthritis also happens in the fingers, wrists, elbows and shoulders.  There are many different treatments for arthritis in the upper extremity, including joint replacement surgery.  In particular, shoulder replacement surgery has become increasingly common in the past decade.  The increased frequency of, and demand for shoulder replacement surgery likely relates to improvements in surgical techniques and implant designs.  Shoulder replacements can be used to treat arthritis as well as a variety of other problems including fractures, dislocations, and irreparable rotator cuff tears.  A significant portion of my training has been dedicated to researching and treating upper extremity arthritis and in particular, performing shoulder replacement surgery.  For patients with pain and dysfunction, shoulder replacement surgery can significantly improve quality of life and independence and return patients to their pre-injury level of function.
WHAT IS YOUR EDUCATIONAL BACKGROUND?
I completed an orthopedic surgery residency in Boston, MA at Boston Medical Center.  Following residency, I completed two extra years of specialized training in Hand and Upper Extremity surgery at the Cleveland Clinic and Shoulder and Elbow surgery at the Holy Cross Orthopedic Institute in Fort Lauderdale, FL.  As a native of Central New York, I am honored and privileged to return home and care for the people of the community in which I grew up.
WHAT ARE YOUR PLANS FOR THE FUTURE?
I look forward to raising my family in Central New York and improve the orthopedic care of the upper extremity in this region for many years!