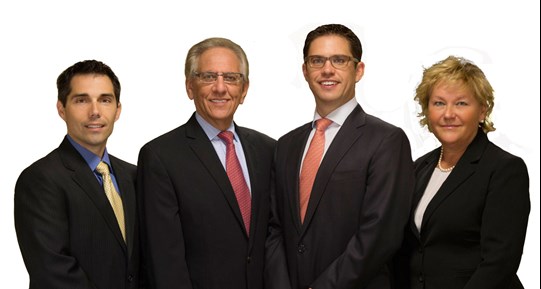 SOS is pleased to announce that Irving Raphael, MD, and Bradley Raphael, MD, have joined the practice. Both Drs. Raphael have a long history of providing orthopedic care to patients in Central New York, and are experts in sports medicine.
"We are excited to welcome both Drs. Raphael to the SOS team," commented John F. Fatti, MD, president of SOS.  "They are a great addition to the excellent surgeons that we already have on our Sports Medicine team." SOS Sports Medicine provides comprehensive care for athletes of all ages and skill levels. From competitive athletes to weekend warriors, the physicians and staff of SOS Sports Medicine are committed to providing all patients with expert orthopedic care to help them return to their activities as soon as possible.  Additionally,
SOS physicians are team physicians for many area high school, college and professional teams.  "The addition of Drs. Raphael will make our Sports Medicine practice a powerhouse," says Dr. Fatti.
Dr. Irving Raphael has a long and respected career in orthopedics and sports medicine in Central New York.  He had been the Director of Sports Medicine and Head Team Physician at Syracuse University for many years.  He is also an orthopedic consultant to the NCAA, NBA, NFL and PGA.  Dr. Raphael is a graduate of Yale University School of Medicine and completed his orthopedic residency at Upstate Medical School, where he is now a clinical assistant professor of orthopedics. He is a member of the American Academy of Orthopaedic Surgeons, the American Orthopaedic Society for Sports Medicine, the International Arthroscopy Association, and is board certified in orthopedic surgery.
Dr. Bradley Raphael also received his medical degree from the Yale University School of Medicine. He completed his orthopedic residency at the Hospital for Special Surgery at Cornell-Weill Medical School in New York City, and also completed a sports medicine fellowship at the Kerlan-Jobe Orthopaedic Clinic in Los Angeles. While in California, Dr. Raphael gained extensive experience working with athletes alongside the team doctors for the Los Angeles Lakers, Anaheim Ducks, Los Angeles Dodgers, and the University of Southern California. Dr. Bradley Raphael states, "We're looking forward to augmenting the personalized care our patients have come to expect with the increased resources and specialties within SOS."
Also joining SOS are Deborah Pflugh, RN, NP, and Brandon Weaver, PA-C, mid-level professionals who have worked with Drs. Raphael. Pflugh is a graduate of St. Joseph's Hospital Health Center School of Nursing and she received her certification as a Nurse Practitioner at SUNY Health Science Center. She is certified member of the American Nurses' Association and an active member in the Syracuse chapter of the Nurse Practitioner Association.  Weaver is a graduate of Rochester Institute of Technology (RIT) with a Bachelor's of Science degree from their Physician Assistant program. He is a clinical preceptor for RIT, providing instruction in patient care, treatment and mentoring to Physician Assistant students. Brandon is a member of the American Academy of Physician Assistants.
Drs. Raphael, and Pflugh and Weaver, will be seeing patients at the SOS Dewitt office located at 5719 Widewaters Parkway, Syracuse and the SOS Clay office located at Clay Medical Center, 8100 Oswego Road, Suite 105, Liverpool.