Syracuse Orthopedic Specialists (SOS) is pleased to announce it has recently hired Devon Ryan, MD, who will be joining its Hand & Wrist Team. A fellowship trained surgeon he will be joining a team of hand surgeons experienced in performing multiple types of hand surgery to treat injuries and conditions such as carpal tunnel syndrome, rheumatoid arthritis, trigger finger, and more. Dr. Ryan will provide comprehensive care of the entire upper extremity, from shoulder to fingertip.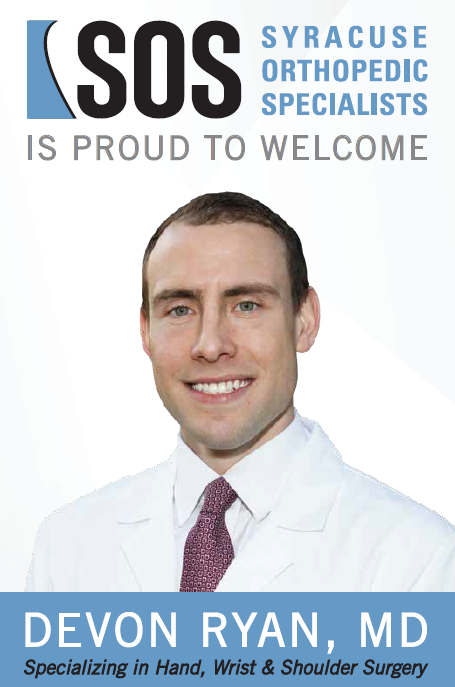 Prior to joining SOS, Dr. Ryan completed a fellowship in hand surgery at Duke University School of Medicine. He completed his residency at New York University/Langone Orthopedic Hospital where he was Executive Chief Resident. Dr. Ryan received his medical degree from the New York University School of Medicine, received his bachelor's degree from Princeton University, graduating Magna Cum Laude, and completed a post-baccalaureate premedical program at Bryn Mawr College. He has already published in several peer-reviewed journals, book chapters, and presented at many conferences.
"We are thrilled to have Dr. Ryan join SOS," stated Mike Humphrey, CEO, Syracuse Orthopedic Specialists. "He is an extremely talented and well-trained surgeon who will be a great asset to SOS patients and joins us at a pivotal time as SOS prepares to open a newly expanded Hand & Wrist Center in DeWitt."
Dr. Ryan takes a patient-center approach to care and emphasizes shared decision-making with his patients. "I work to earn a patient's trust and best understand their goals. With that foundation in place, we can make a successful treatment plan which may or may not require surgery." He is expertly trained in larger procedures such as shoulder and elbow joint arthroplasty, as well as complex trauma and microvascular procedures which require the use of the operating microscope. Dr. Ryan also offers a new reconstructive technique for basal joint arthritis to minimize immobilization in patients and allows them to return to activities.
Dr. Ryan is accepting new patients. He will be seeing patients at the Hand & Wrist Center in DeWitt, and the Camillus and Liverpool office locations. Appointments can be made by calling the SOS Hand Center at 315-251-3162.