Spring 2022 C-Suite Magazine
Syracuse Orthopedic Specialists (SOS) opened their Orthopedic & Sports Therapy (O&ST) service line eight years ago with a vision to deliver the highest quality patient care. With four convenient locations in Camillus, North Syracuse, East Syracuse, or Liverpool, patients can choose whether to attend sessions close to home or work. SOS's main goal is achieving superior patient outcomes and by providing clinicians the resources they need to be successful, the SOS team is maximizing care and minimizing cost.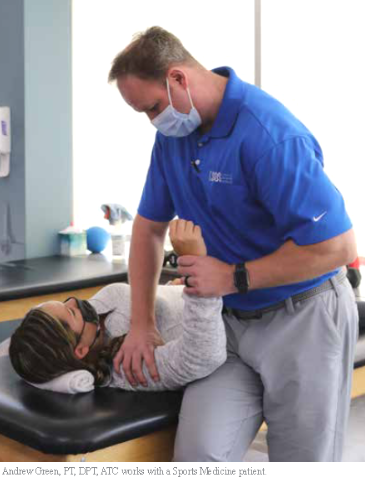 Tools for Success
As a service line within SOS, O&ST has benefited from a significant investment in facilities and technologies that provide clinicians with what they need to treat patients. "You notice the difference in our facilities as soon as you walk in the door," says Director, Todd Cardi, PT. "Our facilities are top notch," says Operations Manager, Michael Linkiewicz, PT, "we have enough space to offer a full range of treatment options to our patients to expedite their recovery."
SOS employs therapeutic technologies including an MLS class IV robotic laser l to treat pain and inflammation and an RPW shock wave machine to stimulate healing and regeneration of injured soft tissue. Therapists have the ability to provide other alternative and specialty treatments including Sound Assisted Soft Tissue Mobilization (SASTM), Functional Capacity Evaluation (FCE), and Canalith Repositioning.
The O&ST department relies on technology to enhance the patient overall education and experience. For patient education, clinicians use a 3D program called Anatomy TV to explain the procedure that was performed or where their injury occurred. "We put a significant emphasis on patient education," Cardi says, "in the doctor's office, you may not have time to get an in-depth explanation. We pick up where the doctor left off."
Clinicians use a home exercise program module to provide patients with better illustrations of exercises they need to perform outside of their sessions. The program allows for real time feedback from the patient as well as monitoring of their compliance. "These technologies will not only ensure better treatment but will also shorten the length of treatment which can help maintain costs at a reasonable level for our patients," Linkiewicz says.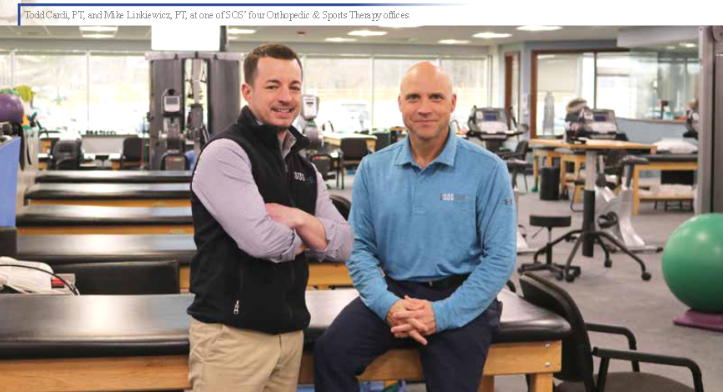 Philosophy of Specialization
SOS follows a philosophy of specialization for their therapists as well as their orthopedic surgeons. Over half of the O&ST therapists specialize in one area only including Sports Medicine, Total Joint Replacement, Hand/Wrist/Elbow, Foot/Ankle, Spine, and Shoulder/Upper Extremity. "Just like with SOS physicians, when our therapists are only treating one area of the body, they have a higher level of expertise and can provide better care to the patient," says Cardi.
There is regular interaction between therapists and physicians in each specialty area to discuss protocols, review case studies, and develop communication patterns. "The coordination among the specialties have driven our outcomes to be consistently better than the national average," Cardi says.
SOS therapists are encouraged to pursue certifications for various specialties such as Certified Hand Therapist, Pain Management, Fall Prevention, Functional Capacity Evaluation Testing, Vestibular Balance Therapy, McKenzie Spine Evaluation and Treatment, Orthopedic Clinical Specialist, and Sports Metrics/Injury Prevention certification. "We support our therapists in becoming certified in specialties, beyond their required continuing education credits to maintain licensure," says Linkiewicz.
Team Approach to Care
SOS therapists and therapist assistants work together as a team, providing a continuity of care for the patient, creating confidence in the clinicians, and ensuring patient buy-in and compliance. From the initial evaluation, the patient becomes familiar with both the therapist and assistant they will be working with for the duration of their therapy. SOS strives to have a therapy team skilled in at least one specialty area at every one of their four locations for patient convenience. "Having specialists on site who are skilled in making quick decisions on progression is key," says Linkiewicz.
Both members of the therapy team become familiar with the patient, their case, and the treatment plan, so if one team member is unavailable, the other can easily take over. "Our team approach is invaluable in maintaining continuity of care. It's seamless to the patient," says Linkiewicz. Cardi emphasizes that a patient will get face-to-face contact with their therapy team at every appointment. "That interaction with our therapists is really important. Our therapists will ask patients if they have any questions and reiterate the goal we are working toward to make sure they understand," he says.
Measuring and Monitoring Success
In order to achieve superior patient outcomes and patient satisfaction, SOS uses the largest and most extensive database available in outpatient orthopedic rehabilitation, provided by Focus on Therapeutic Outcomes Inc. (FOTO). This database allows them to measure patient satisfaction and monitor patient outcomes using data from 36,160,000 patient assessments, 9,545,000+ completed episodes of care, 23,700+ clinicians participating across the United States and Canada from 12,600+ clinics. During patient intake, the therapist collects data from the patient, including demographics, comorbidities, and any information that may affect treatment or recovery. The database creates a Risk Adjusted Profile based on this information and compares patients with similar profiles.
By the time the therapist gets into the treatment room on the first visit, they have a prediction of how long the patient should be in therapy and what functional improvement can be expected. If the patient has a better functional improvement than predicted in the same or fewer visits, then the therapist has achieved a superior outcome. The database information also helps therapists set expectations with the patient to see how they compare to other patients with their same risk adjusted profile.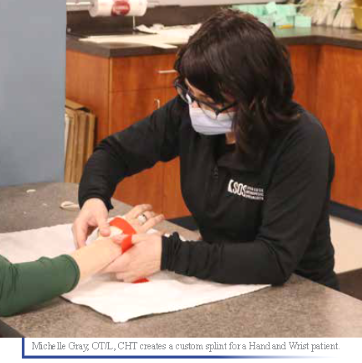 Subsequent surveys collect patient satisfaction information at critical points in the patient's recovery. If the patient does not understand their condition well or is not satisfied with their progress, the therapist can address that immediately and correct the issue. Thanks to the continuous quality improvement opportunities provided by the real-time survey responses, 98.6% of SOS O&ST patients are satisfied with their results and experience at discharge. This includes feedback from approximately 9,000 SOS O&ST patients discharged in 2021 compared to 1,053,611 patients in total in the FOTO database for that time period. "When they leave, we want them to be fully satisfied," says Linkiewicz, "the FOTO database enables us to measure both our effectiveness and patient satisfaction."
SOS sees patients for 3.5 fewer visits today than they did when they first began utilizing FOTO, and 2.5 fewer visits than the FOTO predicted average per episode of care. This creates a significant cost savings for patients and payers. "Our main priority is superior outcomes over financial reward," says Linkiewicz, "this demonstrates exactly what we are trying to achieve and that we are well on our way to achieving it." This approach is working. SOS O&ST sees approximately 13,000 new patients per year, and many are referrals from other satisfied patients.
Cardi says their main goal is to help people recover and get back to functioning as fast as possible. "We are seeing patients less and achieving better outcomes. That puts our doctors at ease. That's a direct reflection on them. We are extremely proud of how we are performing."
Comprehensive Care Now and in the Future
Utilizing best practices, SOS Orthopedic & Sports Therapy provides comprehensive multidisciplinary care for patients, with an eye to the future for growth and improvement.
SOS's Specialists' One-Day Surgery Center in North Syracuse is a 23-hour care facility for healthy patients to have total joint replacement, spine surgeries, and other procedures in an outpatient environment. SOS therapists are on staff and on call for post-operative patients when they are in recovery. Therapists run through a checklist of functional safety requirements determining if the patient can get on and off a bed, toilet, and chair, navigate stairs, understand how to use an assistive device, brace, or sling. The SOS therapists do not bill patients for this service at the surgery center. "This is what we have committed to as a group as a best practice," says Cardi, "it is about delivering the best care and it sets us apart."
For patients that have chronic pain, SOS O&ST is working with SOS spine physicians and New York Spine and Wellness physicians to develop protocols for pain management and post injection therapy. Spine therapists certified in pain management can help patients with exercise and activity modification to help keep their pain symptoms at bay and improve their function, in addition to their injections or medications that their pain management doctor can provide.
This fall, SOS will offer an expanded hand and wrist center including certified hand therapists at their 5719 Widewaters location in East Syracuse, allowing them to further improve the communication and collaboration between doctors and therapists for patients who have had tendon repair, fractures, or other hand surgeries. Patients will be able to see their doctor and walk across the hall to get a custom splint from their therapist the same day.
SOS has the largest athletic training department in Syracuse, working with over 15 area high schools and secondary colleges. Having an athletic trainer on site expedites care when an athlete sustains an injury. If the athlete requires rehabilitation, they are referred to SOS therapists to get them back to their sport as quickly as possible. When the athlete returns to their school, the athletic trainer is there to work with them to further to facilitate a safe return to sport. "Having all the pieces at our disposal allows us to communicate effectively and smoothly, and improve the overall experience for the athlete," says Linkiewicz.