The Enterprise America program, an exciting hands-on program for middle-school students. The first of its kind in New York State, the program involves classroom instruction, with teachers using curriculum aligned to state and 21st Century learning standards . Following the completion of classroom study, students embark on the Enterprise America experience, spending a day in WCNY's Enterprise America City, which they are responsible for operating.
Students apply the STEM (science, technology, engineering and math) and financial and civic literacy skills they have learned to run the city's 14 businesses (now including the SOS Wellness Center) and City Hall, becoming business entrepreneurs and employees, consumers and citizens.
They enact laws, elect a mayor and judge and enroll in a health insurance program. The business owners negotiate loans at the bank, while their employees get busy manufacturing products and pricing services including webpage design. Business accountants prepare invoices and pay bills. Journalists and photographers write stories and take photos for the city's online newspaper. Utility company staff explain benefits of alternative energy options to business owners. Students exercise their civic duties by casting votes on city issues on a real voting machine and learn how to manage their money and time.
In Enterprise America's real-world, hands-on learning environment, students do the work, make the decisions and learn what careers may demand of them when they enter the workplace. By putting into practice the skills that 21st century businesses expect employees to possess, students realize the importance of staying in school for long-term success.
Learn more about the program by visiting the Enterprise America website.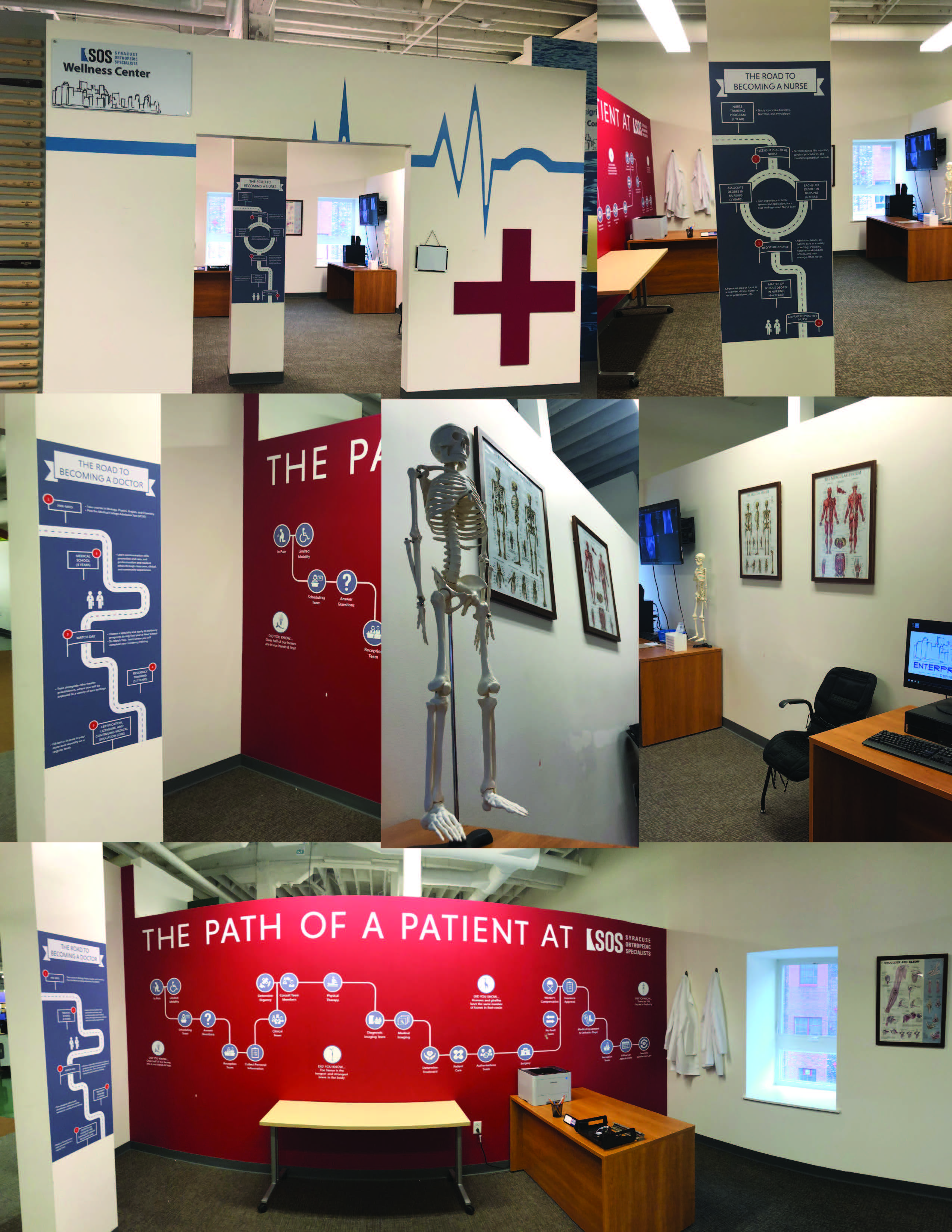 As part of SOS' sponsorship, we enhanced the Wellness Center to include visuals of the SOS Patient Journey. Throughout the room you'll find hallmarks of SOS offices including diagrams of the musculoskeletal system, physician lab coats, and of course an anatomical skeleton! Students visiting the center can also read about the educational path of becoming a nurse or a doctor, as well as a few fun facts including: Giraffes have the same number of bones in their neck as humans do!