Results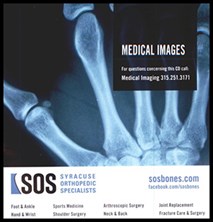 Once your scan is complete, the technologist will send the images to the radiologist who will generate a report for the ordering doctor.
It may take 24-48 hours for the report to be sent to the ordering provider.
Results of the test will be reviewed with you at your next follow up appointment.
If you wish to obtain a copy of your images for your own records, you may do so by requesting a CD from the receptionist on your way out.
There will be a $5.00 fee to have your images burned to a disc.
The radiologist's report can be obtained through the medical records department.
If you are referred to our facility for an MRI from a provider outside of SOS, make sure to ask for a CD of the MRI images to bring back to your doctor.
---
Questions about your MRI? Click among the links below to find your answer! If you still have more questions, do not hesitate to call our office at 315.251.3100.