April 2020 marks the one-year anniversary of the new, expanded location of the Syracuse Orthopedic Specialists' One-Day Surgery Center.
"We opened our same-day surgery center in April 2019," says James Alan Lemley, MD, President of the Surgery Center and Orthopedic Surgeon with Syracuse Orthopedic Specialists. "It's given us the capability to do things that were previously only available to patients in hospital settings."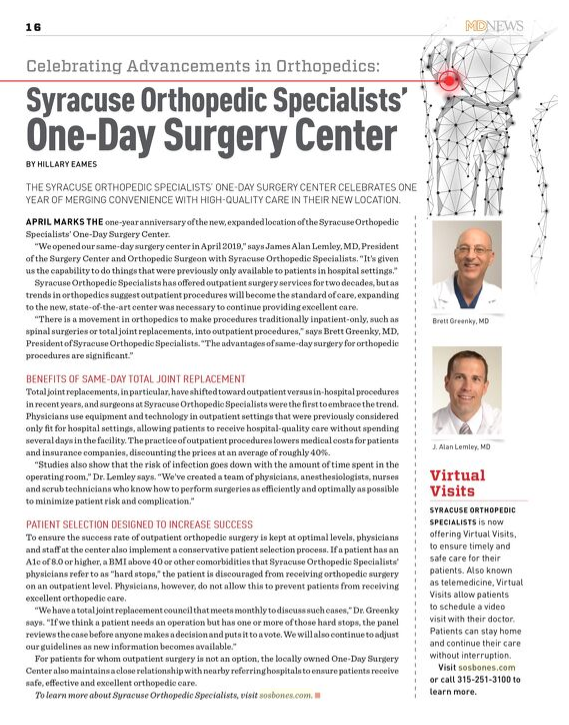 Syracuse Orthopedic Specialists has offered outpatient surgery services for two decades, but as trends in orthopedics suggest outpatient procedures will become the standard of care, expanding to the new, state-of-the-art center was necessary to continue providing excellent care.
"There is a movement in orthopedics to make procedures traditionally inpatient-only, such as spinal surgeries or total joint replacements, into outpatient procedures," says Brett Greenky, MD, President of Syracuse Orthopedic Specialists. "The advantages of same-day surgery for orthopedic procedures are significant."
Benefits of Same-Day Total Joint Replacement
Total joint replacements, in particular, have shifted toward outpatient versus in-hospital procedures in recent years, and Syracuse Orthopedic Specialists were the first to embrace the trend. Physicians use equipment and technology in outpatient settings that were previously considered only fit for hospital settings, allowing patients to receive hospital-quality care without spending several days in the facility. The practice of outpatient procedures lowers medical costs for patients and insurance companies, discounting the prices at an average of roughly 40%.
"Studies also show that the risk of infection goes down with the amount of time spent in the operating room," Dr. Lemley says. "We've created a team of physicians, anesthesiologists, nurses and scrub technicians who know how to perform surgeries as efficiently and optimally as possible to minimize patient risk and complication."
Patient Selection Designed to Increase Success
To ensure the success rate of outpatient orthopedic surgery is kept at optimal levels, physicians and staff at the center also implement a conservative patient selection process. If a patient has an A1C of 8.0 or higher, a BMI above 40 or other comorbidities that Syracuse Orthopedic Specialists' physicians refer to as "hard stops," the patient is discouraged from receiving orthopedic surgery on an outpatient level. Physicians, however, do not allow this to prevent patients from receiving excellent orthopedic care.
"We have a total joint replacement council that meets monthly to discuss such cases," Dr. Greenky says. "If we think a patient needs an operation but has one or more of those hard stops, the panel reviews the case before anyone makes a decision and puts it to a vote. We will also continue to adjust our guidelines as new information becomes available."
For patients for whom outpatient surgery is not an option, the locally owned One-Day Surgery Center also maintains a close relationship with nearby referring hospitals to ensure patients receive safe, effective and excellent orthopedic care.
MDNews 2020 May June Edition: https://viewer.e-digitaledition.com/i/1240593-may-june-2020/15?