SOS Spine Surgeon, Dr. Justin Iorio, has been named to 2022 class of 20 Under 40 by the SpineLine Editorial Board. Honorees are selected by SpineLine to showcase North American Spine Society bright physicians under the age of 40. A committee selects these physicians based on accomplishments, service to their local communities, and philosophy of care.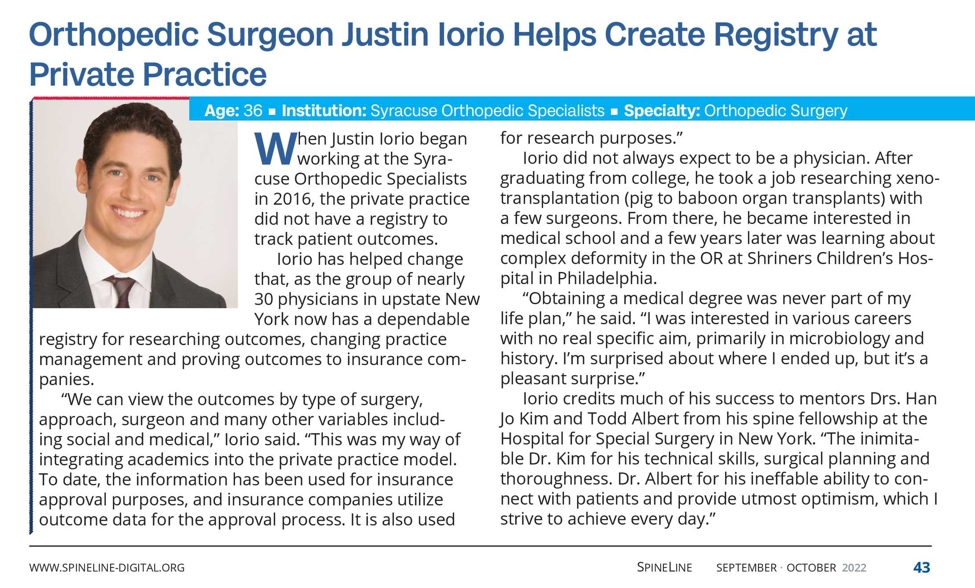 Orthopedic Surgeon Justin Iorio Helps Create Registry at Private Practice
When Justin Iorio began working at the Syracuse Orthopedic Specialists in 2016, the private practice did not have a registry to track patient outcomes.
Iorio has helped change that, as the group of nearly 30 physicians in upstate New York now has a dependable registry for researching outcomes, changing practice management and proving outcomes to insurance companies.
"We can view the outcomes by type of surgery, approach, surgeon and many other variables including social and medical," Iorio said. "This was my way of integrating academics into the private practice model. To date, the information has been used for insurance approval purposes, and insurance companies utilize outcome data for the approval process. It is also used for research purposes."
Iorio did not always expect to be a physician. After graduating from college, he took a job researching xeno-transplantation (pig to baboon organ transplants) with a few surgeons. From there, he became interested in medical school and a few years later was learning about complex deformity in the OR at Shriners Children's Hospital in Philadelphia.
"Obtaining a medical degree was never part of my life plan," he said. "I was interested in various careers with no real specific aim, primarily in microbiology and history. I'm surprised about where I ended up, but it's a pleasant surprise."
Iorio credits much of his success to mentors Drs. Han Jo Kim and Todd Albert from his spine fellowship at the Hospital for Special Surgery in New York. "The inimitable Dr. Kim for his technical skills, surgical planning and thoroughness. Dr. Albert for his ineffable ability to connect with patients and provide utmost optimism, which I strive to achieve every day."