SOS Joint Registry – A Local, Comprehensive Review of Hip Replacement Outcomes
Syracuse Orthopedic Specialists (SOS) has a well-respected, established reputation of expert orthopedic care in Central New York. Its team of surgeons is known for their excellent surgical skills and patient care.  SOS remains committed to this excellence and further improving it.  As part of that commitment, in collaboration with Crouse Hospital and St. Joseph's Health Center, SOS formed a research department to allow for study of trends and tools in orthopedic care.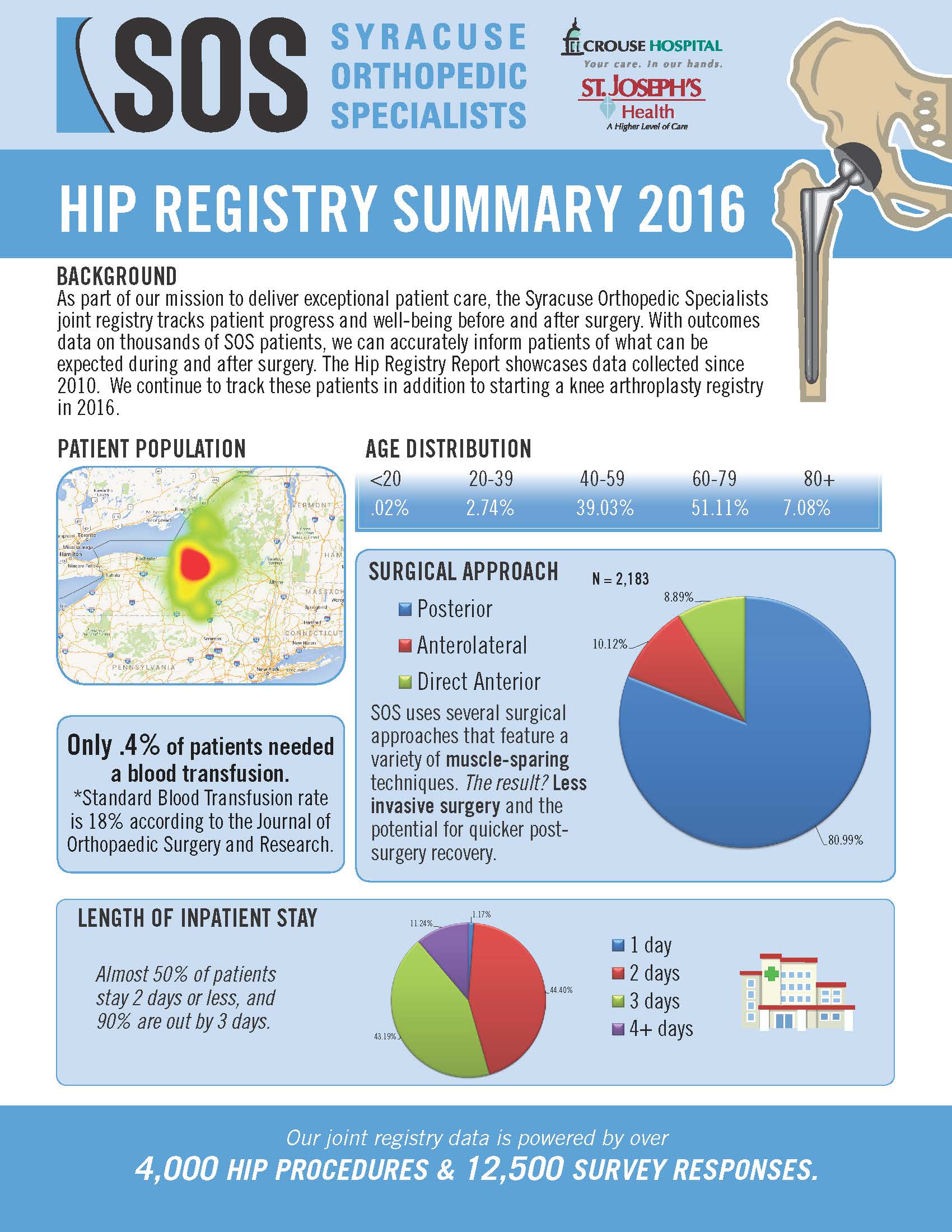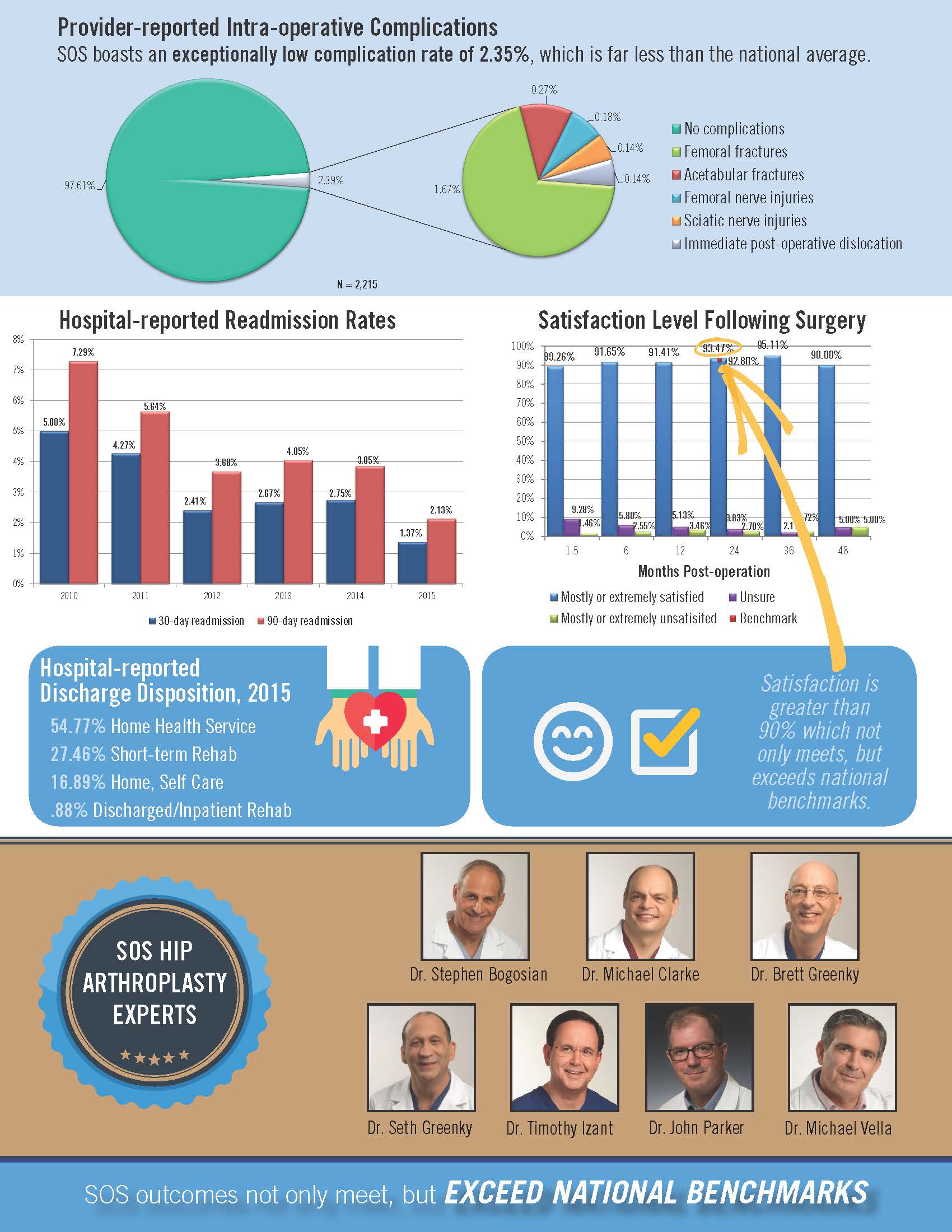 A large portion of the research department's time has been spent collecting data on total hip replacements performed by SOS surgeons for a Joint Registry. In 2010, the SOS Research Team, led by Michael T. Clarke, MD began collecting data on the outcomes of total hip replacements performed by the SOS joint replacement surgeons. "We started collecting data for a practice registry to audit our own abilities and outcomes and find out where we can improve," commented Michael Clarke, MD. The current joint registry is powered by over 4,000 hip procedures and 12,500 patient survey responses.
The SOS Joint Registry is "unique in that it is not commonly found in private orthopedic practice, and the level of data tracked is extensive," remarks Dr. Clarke. The National Joint Registry tracks revision rates only, while the SOS Joint Registry tracks not only revision rates, but also the patient's and surgeon's clinical outcome in terms of pain relief and function. "We were quite pleased to learn that SOS is well above national and international benchmarks in almost all criteria that were measured," stated Dr. Clarke.
The SOS Joint Registry Reports:
90% of total hip replacement and hip resurfacing patients report improved outcomes scores by six weeks after surgery.
Approximately 90% of total hip replacement and hip resurfacing patients report they are extremely or mostly satisfied at six weeks after surgery.
Over 97% of total hip replacement and hip resurfacing patients report improved outcomes scores by six months after surgery.
Joint Replacement Surgery Options

The SOS Joint Replacement Program is one of the nation's best, with more than 3,000 surgeries performed annually. The surgeons on the SOS joint replacement team are fellowship-trained, highly experienced and skilled in total joint replacement treatments in Syracuse, NY.
Common Joint Replacement Procedures include:
Hip Replacement, Knee Replacement, Minimally Invasive Knee Replacement, Revision Hip Replacement Surgery.
Learn more about our Joint Replacement Surgery procedures here.
The Right Options. Better Movement. Total Orthopedic Care.
In addition to reported patient satisfaction the SOS Joint Registry uses five validated outcome instruments to measure pain and functionality in the surgical population, and exceeded the benchmark of most of these scoring instruments:
The Harris Hip Score is intended to measure pain, function, deformity and range of motion in adult patients with varying hip disabilities.
The Western Ontario and McMaster Universities Osteoarthritis Index (WOMAC) index is intended to measure pain, stiffness and physical function in patients with osteoarthritis.
The Oxford Hip Score is intended to measure difficulty associated with hip pain in patients undergoing total hip replacement.
The SF12v2 is intended to monitor health outcomes and measure physical and mental status of patients.
The UCLA Activity Score is intended to assess physical activity patients undergoing total joint arthroplasty.
Dr. Clarke indicated the registry can be used to demonstrate to referring physicians that their patients are getting world-class care, "Not just to toot our own horn, but also to identify areas where we can improve." SOS plans to publish a Joint Registry report approximately every two years going forward. "We needed to have at least five years of data before we could publish a statistically significant report," stated Clarke. SOS also initiated a knee replacement registry in 2016 and will also start a spine registry by 2017.
In addition to the Joint Registry, the SOS Research Team manages a variety of ongoing research projects. Some projects are initiated by the interest of a physician, some by medical device companies who partner with SOS for clinical trials of state-of-the-art orthopedic devices. Pearl Tong-Ngork, Clinical Research Manager, SOS, describes the department of six and their work. "SOS is committed to delivering great patient care. Many studies are quality initiatives that look internally. We identify gold standard practices to optimize patient care, and also identify areas of improvement." The Joint Registry consumes approximately half of the research department's time, but they do have at times 20 other sponsored studies or in-house research initiatives in development.
"Patient satisfaction and positive outcomes are what SOS strives for," says Michael Humphrey, CEO, SOS. "The entire SOS team focuses on patient satisfaction because it is the right thing to do. We are pleased with the work of the research department and that this inaugural Joint Registry confirms we are on the right track and can even provide a blueprint for improvement."